Administrator
Staff member
Administrator
Joined

Feb 3, 2023
Messages

147
Reaction score

606
Game Update 3/29/2023
1. Reduced annoying effect
Stern / Stun
while running with your pets Ryan Pierce / Shining Tail and not only. Sometimes you could get stun for 3 seconds also when not wearing pet and also by character skills such as Ice Storm.
2.
Pandora Event
have been updated and completely renewed. Now the event will require at least 15 Resets and 50 Level and the map location is changed to custom location: Arena (pvp gladiator's arena).
In order to participate in the
Pandora Event
you must talk to NPC
Azshara
in Lorencia (148, 133) or Arena (60, 121). She will move your character to the Gladiator's arena and there you can wait for the event to start (Pandora chest will spawn once event have started).
Reward #1:
20 WCoins and 100 Goblin Points.
Reward #2:
Random 3 Items from the list : Talisman of Chaos Assembly , Elemental of Chaos Assembly Talisman, Elemental Talisman of Luck

, All New Jewels (including Jewel of Socket, Jewel of Ancient 1 & 2 and Jewel of Full) +1st and 2nd Lucky Item Tickets

.
Event New Duration :
5 Minutes
Event Mechanics :
Kill All and Survive!
When your character dies in the Gladiator's Arena you can simply go back to
Pandora Event
by talking again to
Azshara
in Arena entrance or Lorencia (148, 133) and like that until event finishes.
Event Schedule remains the same:
3:15 AM
9:15 AM
2:15 PM
6:15 PM
10:15 PM
Event Requirement:
Character with at least 15 Resets and 50 Level.
WIth all this updates we fix the issue where you can go outside pandora event (Lorencia safe zone) and win the event automatically.
Note that even if Pandora Event is not active, Azshara will still move your character to the Gladiator's arena if you talk to her. The Pandora Event is active only when you see the global announcement in game.
Azshara is located in 2 locations Lorencia and Arena:
Azshara
(Pandora Event portal NPC)
Map: Lorencia
|
Coordinates: 148, 133
Azshara
(Pandora Event portal NPC)
Map: Arena
| Coordinates: 60, 121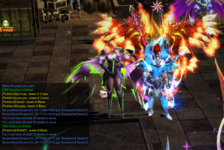 Thank You,
The InfinityMU Team
Last edited: