Chrisss

​
​
​
​
Joined

Dec 12, 2013
Messages

2,166
Reaction score

3,980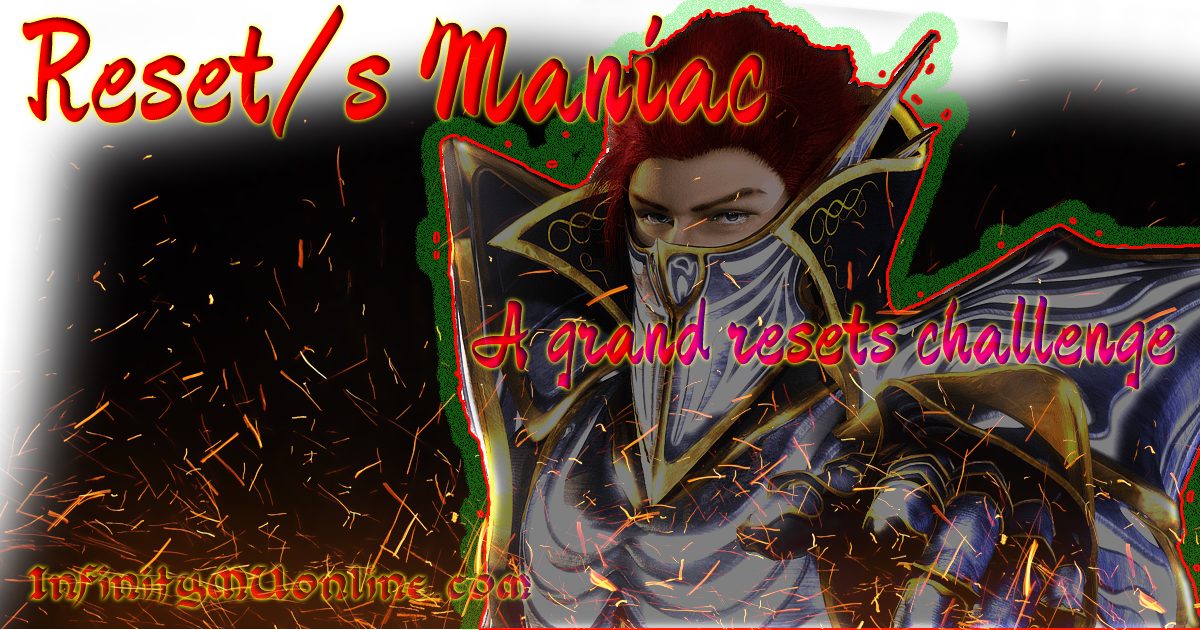 .: Reset/s Maniac :.
(A grand resets challenge)
Many of you prefer to spend time doing RR and GR instead of fighting other players
If you are such a player then I have a challenge for you to do 12 GR in one month.

The event will start on July 1st In >>UTC+3<<
This means that this month you will have 31 days to complete the challenge.
You must complete the challenge in the same month you started it.
If you haven't done it, you can start from the next month starting from the beginning, which is lvl 1 and 0 RR
To prove it, add your character name and 2 screenshots.

You need to start with 0 rr and 1 lvl to win this challenge
take a screenshot where you show that you have 0 rr and 1 lvl.
below shows how the SS should look like

You can use any one character which means that if you chose MG then all 12 GRs must be done on that character
If you manage to do 12 GR in one month you have to take a second screenshot where you prove that you did it.

No matter how much GR you had before
You can use a ready-made character that already has his set and weapons, but remember that this character must have 0 rr and 1 lvl to start.



>>RULES<<
The Staff Team cannot take part in this challenge
You are NOT allowed to use any type of hack / bug
You are not allowed to use more then one account
You can use multiple accounts to help yourself raise your lvl
Buff of course are allowed
Fail to do fulfill any of the rules will lead to Disqualification from the event
.: PRIZES :.
1st Place - 15 000 Credits + 10 IMES +
120 ROW
+15 000 Credits from sponsor Bontzovi
2nd Place - 10 000 Credits + 5 IMES +
30 ROW
+10 000 Credits from sponsor Bontzovi
3rd Place - 5 000 Credits + 3 IMES + 15 ROW
+5 000 Credits from sponsor Bontzovi
++Special forum tag for the winners++


(All ROWs are from my private collection)


For clarification, this is how your screenshot should be, which shows your LVL-RR-GR
(remember you have to start with 0 RR and 1 LVL)

​
Last edited: