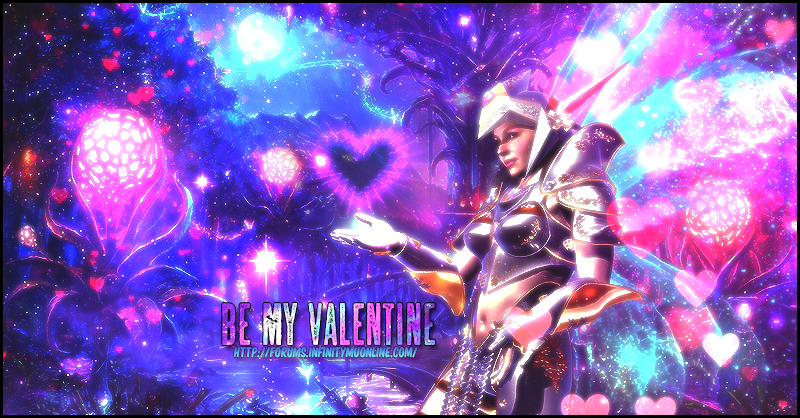 Special thanks to Heruvim for this awesome banned
Be my Valentine
Hello Infinitians!
It's time for a new Event InfinityMU Trademark - Be my Valentine


.: Event Description :.


You will have to decorate your vault/inventory using Heart, Star of Sacred Birth and Liliac Candy Box and make it as good and sexy as you can


.: Event Mechanics :.
As you already saw you can use Heart and Star of Sacred of Birth to decorate your vault/inventory - yes only Heart ... you can Not use Heart of Love. You can write something with them - use both your vault and inventory or only one of them ... it is up to you, but keep it mind that the entry that looks cooler most likely will win
.: Deadline of the event :.
15th of February 16:00 PM GMT+2!
.: RULES :.


Be creative
One entry per forumer
Staff team is allowed to join ( except GMs )
You are not allowed to change your entry once you have submit it
Any attempt to disrupt the event will lead to DQ or even ban
When your character is ready upload an SS of him/her here along with an SS of Valid Vote
Write your IGN of the character you want to receive the prize
If you fail to keep any of the rules above you will be disqualified
You can vote here: https://www.infinitymuonline.com/votereward/
You can upload your SS on postimages.org or imgur.com




.: Prize(s) :.
Code:
Code:
1st Place - 1 200 gold credits + 3 IMES

2nd Place - 900 gold credits + 2IMES

3rd Place - 600 gold credits + 1IMES
Thank you!
InfinityMU Staff Team!​