One and the OnlY ...
Staff member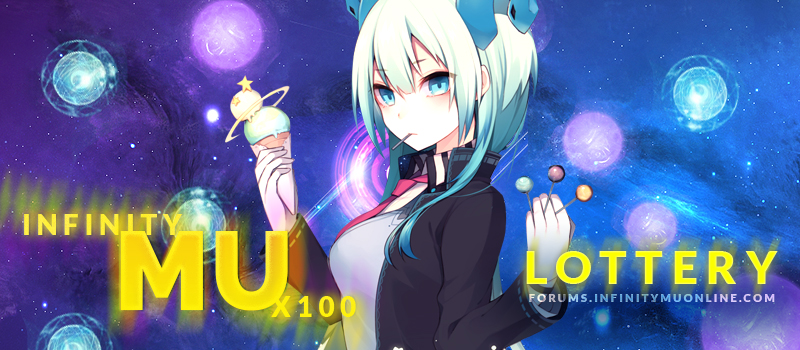 Special thanks to Djinny for making this awesome banner
InfinityMU Lottery
Hello Infinitians!
I bet that you all like to test your luck and to see how much you can win from it. Well you are on the right place and time. Let me present you our special event for all of you - the one - the only - the Weekly Lottery.
.: Event Mechanics :.
All you have to do is to select 6 numbers that you like or you thing that brings you luck ... or just type some random numbers - it is up to you. Then post a screenshot of your votes together with this numbers and here you go - you are in this week Lottery. You may post a new entry every 12 hours!
.: RULES :.
Write your in-game nick for IMES
Staff members is allowed to join, but they can NOT win IMES Points
Editing or any way changing your entries is NOT allowed
You may post only ONE entry at the time - no multiple sending of entries !
You may use only ONE forum and in-game account to submit entries ( for that week )
The numbers must be between 1 and 49 - if a entry contain a number that is not between them the person will be DQ from this week round
You may post a new entry every 12 hours
Upload your cropped screenshots in http://imgur.com/ or http://tinypic.com/. Crop the screenshots as in the example below. If you do not post the correct crop, your post will be deleted.
No idea where to vote?
Click here
Example of SS from vote :
.: Prize(s) :.
Code:
2 Numbers = 2 000 Credits + 1 IMES

3 Numbers = 4 000 credits + 1 IMES

4 Numbers = 10 000 credits + 2 IMEs

5 Numbers = 30 000 credits + 15 IMES

6 Numbers = 100 000 credits + 100 IMES ++ the right to use IMES Reaper OR IMES Reaper Removal*
It will be divided to the winners in-case there is 2 or more.
Not following the rules will lead to disqualification.
Spam will be not tolerated in this thread.
For any question PM TrezaN !
​
Thank You,
InfinityMU 100x Staff Team
​
Last edited: